My design team at USAA was challenged with the task of addressing legal and compliance concerns with the current members experience for acquiring special offer credit cards. Depending on the USAA members scenario they may be able to apply for a credit card and not know they have special offers available to them. This experience gap creates distrust with the members, lowers the approval rating, causes card switching, increases call volumes to the USAA customer service representatives and creates compliance risks for the company. 
I was a lead designer on the effort and responsible for:
• Giving daily status updates to business partners on projects progress
• Solving UX & UI problems with the overall experience

• Presenting work to business stakeholders
• Facilitating interviews with MSRs (Member Service Representatives)
• Conducting competitive analysis
• Creating user flows, wireframes & comps
• Facilitating design critique sessions
• Building prototypes with Invision

• Creating user tests to be conducted with UserZoom

• Synthesizing data

At a high level we use a very similar process to what the Nielsen Norman Group teaches. This was slightly modified to add an iteration step.
Research Objective & Methodology

My team wanted to gain a deeper understanding around the legal requirements of this project, how members compare special offers, what they value when making credit card decisions, and how USAA fits within the market when it comes to special credit card offers.
We performed some legal research, learned about compliance risks, gathered back-end requirements, consulted with our SEO team, spoke with all stakeholders involved, interviewed MSRs, performed some competitive analysis and heuristic evaluations, read through market report analysis and mapped out the current user flows.

Working with a team of designers, we went through multiple rounds of concepting for different parts of the shopping experience. We ran multiple workshops where we had a particular problem we were trying to solve for and used paper, sharpies, and time boxed ourselves while sketching out ideas. We then presented our ideas to the group and critiqued them. We would later refine those ideas digitally and share out with the projects stakeholders.
This is an example of the type of artifact that would be produced from these concepting workshops which we ran multiple times throughout the project.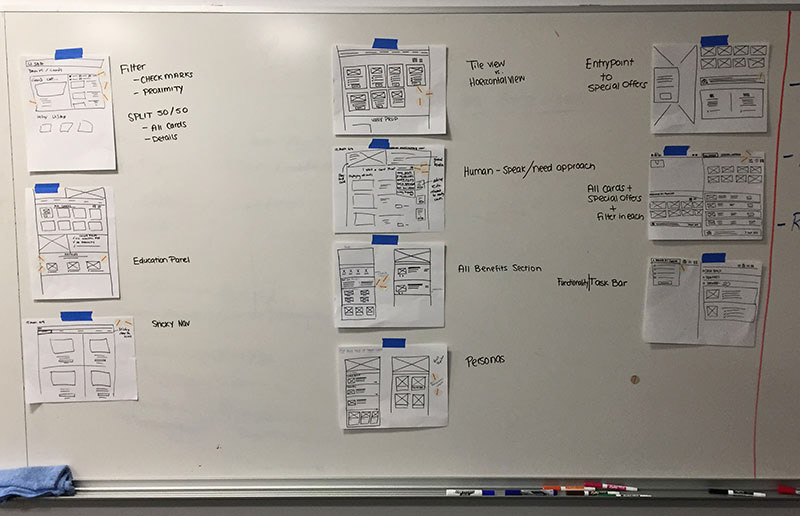 I facilitated multiple design critique sessions where my team as well as other design teams were brought in to help gain a diverse perspective. I printed out wireframes from a plotter and taped them up on a wall. From there I explained the wireframes and invited designers to come up and make notes on stickies about what they thought was working and areas that they felt like could be improved upon. I would also invite the stakeholders to these sessions.
This is an example of wireframes we created for critique.
When we had a more defined direction and business stakeholders sign-off we began moving into the user testing phase. I helped create multiple prototypes using invision with higher fidelity comps for the user tests. I also collaborated with the design team as well as our dedicated research team to come up with a user testing plan. Our concepts were then user tested with a couple dozen testers. We collected qualitative and quantitative data from these tests. We had conducted unmoderated usability tests that we could re-watch on video. There were verbal responses to questions, survey responses, click-tests, heat maps, success rates for tasks and other things that were measured. These user tests helped inform our direction with the experience which we continued to iterate on.
After validating our designs through user testing, getting approval from the business stakeholders, consulting with our legal partners, utilizing our content team, and speaking with our development teams, we were finally able to produce high fidelity designs that were ready for hand off to development.
This is the credit card hub page that we launched in June of 2020. 
We also designed for special offers, credit card detail pages, and entry to the credit card applications. Each of these pieces were designed to keep a cohesive experience across all device sizes.
Some of our measures for success for this effort would include things like:
• Increase in application starts (Mobile app start rates increased by 15%)
• Increase in SEO ranking (From June 2020 to December 2020 SEO ranking of the storefront went from 30th position to 16th position on Google)

• Increase the life of a credit line
• Increase in approval ratings
• Increase in usage of credit card benefits
• Decrease call volumes to MSRs related to specific credit card details
• Decrease card switching 
• Validation that members have seen and are aware of all their special offers
• Increase in member confidence they are applying for the right card for them